The Music People, Inc. segmented its products into several unique brands, each targeting a different demographic with different product expectations. Thus, each brand was assigned its own style set. The Music People also served as a private label branding agency to clients who needed to target other markets with their own branding. Each piece shown below has been designed within The Music People brand family or for clients through the internal private label branding agency. 
HOT WIRES PACKAGING 
The Music People brand family
This packaging for Hot Wires was color coded by product application and showcased the cable ends for quick consumer fulfillment on retail sales floors.  I chose a rich color palette that complemented the hot, firey image mimicking sound waves that's central to the packaging. I also selected a heavy non-corrugated cardboard stock that needed to be sturdy enough to retain its shape while holding a heavy cable. This packaging caught the eye of dealers and product sales increased by more than 26% within a year of the packaging roll out. In addition to the packaging design, I also designed the logo as well. 
WORLD TOUR PACKAGING 
Private label branding agency client

The World Tour brand was originated for music accessories sold exclusively through big box retailers such as Target and Best Buy. As such, the executives at World Tour needed the packaging to compete with other brands that have dominated shelf space. Part of my solution was to incorporate a field of a bright blue spot color into the packaging contrasted by white text. The concept behind the imagery was to show the everyday, aspiring musician who fantasized about what life might be like on world tour. The World Tour executives expressed that it was important the consumer (generally parents or beginning musicians) identify with the people using the product. Therefore, I used photos of young, casually dressed musicians. I also introduced a metropolitan backdrop to evoke the excitement and big city life commonly associated with stops along a world tour.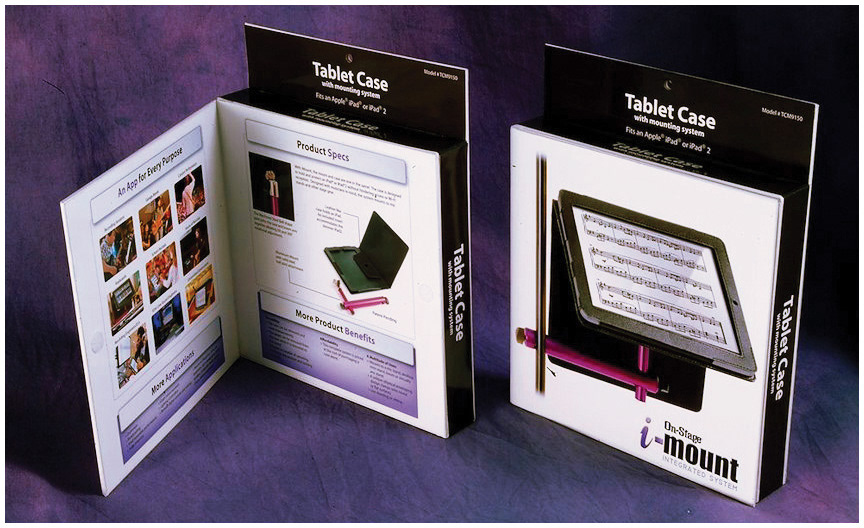 ON-STAGE I-MOUNT 
The Music People brand family
The i-mount attaches to mic stands or instrument hardware and holds an ipad to keep it safe while performers use them as set lists, sheet music or mixing boards. While the company wanted to keep the packaging simple, and clean, much like Apple's CPG, the problem was how to inform musicians of all the ways this product can be useful. Specifically, it was important to demonstrate how this product was different than others like it in a marketplace that was saturated with iPad accessories. My solution was to create a fold-out cover that opened like a book and sealed with a Velcro tab. This allowed our team to create an application grid and showcase the product features when opened, while keeping things clean and impactful when closed. I also chose a stark black & white color palette for the outside and introduced color only with the product image and logo.